IRCICA Library is one of the top special libraries in social sciences and humanities. The emphasis of its collection is on history, geography, religion, science, philosophy, arts, architecture and letters, and the Islamic culture and civilization. It contains 85.000 books and dissertations in 145 languages, 120.000 items of periodicals under 2.250 titles, 12.250 items of grey literature, 4.300 offprints, 1.700 maps, 264.000 archival documents, 1.650 audio and video cassettes, 750 CDs and DVDs, 23.500 transparencies, 1.150 microfiches and microfilms.
Rare printed books contained in the collection include early translations of the Holy Quran in Latin (e.g. Robertus-Hermannus Dalmata Ketenensis, Machvmetis saracenorum principis, eius que Alcoran, Zürich, 1550; Alcorani textus universus, translated by Ludovica Marravvia, Padova, 1698); some rare books in European languages (e.g. Guillaume Postel, Des Histoires orientales et principalement des Turkes ou Turchikes, Paris, 1575; Michel Bavdier, Histoire generalle dv serrail et de la covr du grand seigneur empereur des Turcs, Paris, 1626) and early printed books in the Otottman State, i.e. İbrahim Muteferrika prints. Among the periodicals are sources on regional histories such as the Journal of The Royal Asiatic Society, Index Islamicus, Takvim-i Vekayi, Tasvir-i Efkâr and Madjallat al-Athar.
IRCICA's Library and Archive Department operates the library together with the archive of historical photographs. This archive, unique for some of its aspects, comprises the Yıldız Albums Collection dating from the period of Ottoman Sultan Abdulhamid II (end of the 19th – early 20th century) together with 90 distinct personal photograph archives that used to belong to personalities from historical, cultural and academic circles around the world including the Emir of Sharjah H.H. Sultan bin Mohamad Al Qassimi, Zaki Ali, M.D. from Switzerland, Ambassador Wilfried Hofmann from Germany, Prof. Yusuf Ibish from Lebanon, Fahrettin Pasha the "Defender of Medina", Ziyad Ebuzziya and Nuri Arlasez from Turkey.
OCR System
Optical Character Recognition (ocr) enables both printed and manuscript texts to be recorded on computer in readable and treatable formats. IRCICA made an authentic contribution in this field by developing the ocr for Ottoman language which was lacking. Systems existing for Arabic and Persian did not allow treatment of texts in Ottoman. For this reason, IRCICA worked as of 2011 on developing an ocr for Ottoman which it put up as a unique software conform to international standards.
IRCICA obtained the Trademark Registration Certificate for ocr in Ottoman from the Turkish Patent Institute. With this system, it is possible to search words in books printed in Ottoman script, that is, in a voluminous body of literature produced during the period from the introduction of printing techniques to the Ottoman Empire in 1729 until the adoption of the Latin alphabet in Turkey in 1928. This material comprises works in Ottoman authored in all fields of sciences, culture, arts and history and printed with varying fonts at different printing houses.
UHF RFID System
IRCICA Library has set up the rfid (Radio Frequency Identification) system in the UHF (ultra-high frequency) band, as a result of an R&D project it undertook in 2006. A study was made to evaluate the applicability of the said technology in library processes; then, software appropriate for the Centre's needs was developed with the help of experts. The system enabled fast and accurate execution of processes such as counts, search and location, lending, security, stickering, correction of misplacements and various reporting.
Digital Library
IRCICA conceived the IRCICA Farabi Digital Library as of 2008. In 2020 it combined the Farabi Digital Library with the Farabi Integrated Library Software and put it at the service of users through a single interface. Here, materials in handwritten, printed, visual and audio forms are subjected to ocr procedures through scanners compatible with set standards and then transferred to the electronic medium in readable, treatable and usable format.
Collections have been formed in the Farabi Digital Library on a wide range of subjects within the Centre's fields of interest in order to allow users to reach the largest possible number of sources. Thus it comprises collections of copies of the Holy Quran, calligraphic works, maps, yearbooks, periodicals, early printed books and historical photographs. The collections that are selected for digitization are mostly related to Islamic culture and civilization. Among them are chronicles that list historical events by title and date, original sources on the history of the Muslim world, palace records such as calendars and war reports, complete sets of newspapers and journals, and some publications of IRCICA.
By means of the ocr system, Farabi Digital Library offers the word search facility across texts in any language. It allows readers to compose their own digital collections and to add and delete notes or lines on their documents.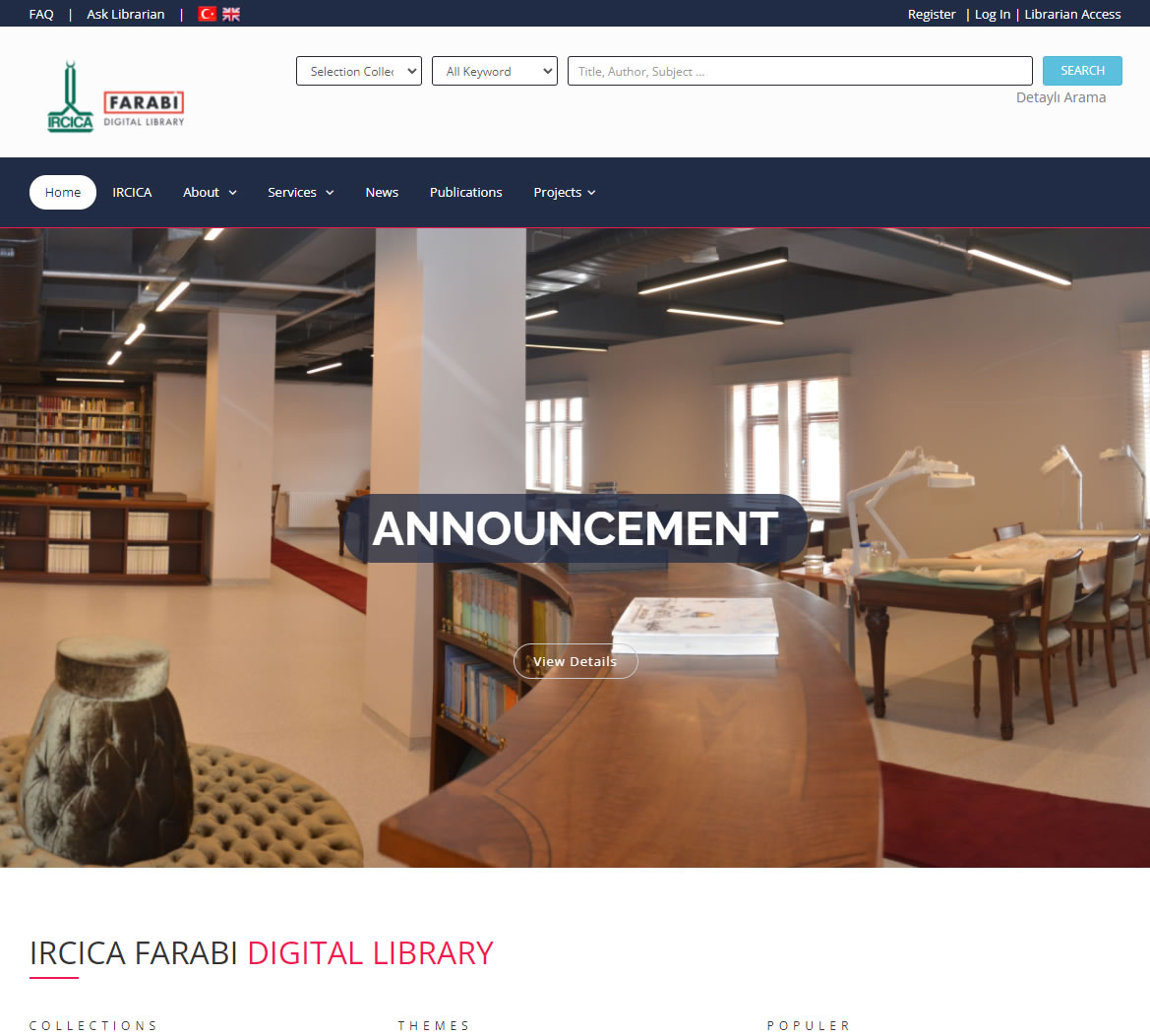 Farabi Integrated Library Software
Farabi Integrated Library Software developed by IRCICA is in full use at IRCICA Library since 2015. It is a special system that uses the latest professional and technical systems and combines all processes from purchase orders to end-use reports under one umbrella.
Cooperation and Technical Assistance
The library serves visitors from all over the world in addition to the research needs of its own departments. On remote basis, IRCICA Library cooperates with cultural authorities and libraries and archive institutions in the Member States and, also, other countries possessing Islamic collections, by exchanging information, extending expertise and technical assistance towards classification, recording and digitization of library holdings. This is also a service to preservation of cultural heritage that is in written or printed form, in the form of artworks, sound or video recorded for storage, or treated electronically.
Training programs
The Centre organizes training programs for librarians and archivists from the Member States on restoration and conservation of old books and archival documents, in order to upgrade the skills of the concerned staff and to meet the needs of the Member States, as well as the needs relating to Islamic manuscripts in surroundings regions outside the Member States. These programs are held at the request of the countries which nominate trainees. Groups of trainees from universities are occasionally trained in IRCICA Library on librarianship in Islamic studies in agreement with their institutions.